Maid of Honor Speech Ideas and tips, everything you need to know!
Posted on May 11 2020
How To Write A Maid Of Honor Speech to Remember
---
    One of the hardest parts about writing the perfect maid of honor speech is how do you start. Your nerves are in bundles, your stomach is in knots and it's go time. The father of the bride and best man have spoken, and now the maid of honor takes center stage to raise a toast to the bride and groom.
There is so much you can say about your best friend and you only have a few minutes to let everyone know how amazing she is and what a beautiful couple they are. She asked you to give a maid of honor speech for a reason, so take a deep breath, grab a glass of champagne, and pour your heart out!
---
 Maid Of Honor Speech Tips
---
Before you get started, here are some quick tips help you do an amazing job and calm your nerves.
Write out bullet points : This will help you stay on point and help your speech flow more free
Try to talk slowly: Most people tend to talk faster when they are nervous. Practice practice, practice!
Make eye contact with the bride and groom: Try not to stare at your notes. Making eye contact with your friend will make her feel like your speech is heartfelt
Stay sober: You may think a few drinks will help calm your nerves, but it will only slur your words and ruin this special moment. You represent the bride, and you do NOT want to do this. Unfiltered thoughts could be dangerous, you know what I mean. Do not give a wedding toast if you're drunk. Please don't!
---
---
Your speech should be no longer that 2 to 3 minutes. Tell a good story about the couple. That's what everyone wants to hear.
*Side note....I think I've seen this scene from Bridesmaids a dozen times and it still makes me laugh! Don't do this though :)

---
 What makes a great Maid of Honor Speech?
Confidence

Clear voice

A glass of Champagne

Your smile and heart
---
How to Write a Maid of Honor Speech 

So now that you have these few tips, lets get to the speech! Here's a good outline for your maid of honor speech.....
1. Tell the guests who you are
The guests may not know who you are so start off by telling them who you are and, how long you have known each other, and just how much you she means to you.
---
This is where you thank everyone involved in the wedding planning process for their hard work. Don't forget to include the bridesmaids, flower girls, groomsmen, etc.
---
 3. Tell a story about the bride
Let everyone what an incredible person and friend she is, how she is always been there for you. Give examples of how amazing she is.
---
Share their love story and how she met the groom. Where you there when they met? What advice did you give her about him? This is where you can tell a funny story about when they started dating. I'm sure they would love to hear your prospective on their relationship!
---
5. Wish them a happy future
Wish the newlyweds wonderful things for the future. We found some really good examples of this on The Knot....
"Wishing you a lifetime of love and happiness."
"Your wedding day will come and go, but may your love forever grow."
"Best wishes on this wonderful journey, as you build your new lives together."
"May the years ahead be filled with lasting joy."
"May the love you share today grow stronger as you grow old together."
---
Wrap it up with a love quote. Below are several well know sentimental quotes that you can use for your speech. Here are just a few ideas.
"Love has nothing to do with what you are expecting to get — only with what you are expecting to give — which is everything." — Katherine Hepburn
"What greater thing is there for two human souls than to feel that they are joined…to strengthen each other… to be at one with each other in silent unspeakable memories."— George Elliot
"Love never gives up, never loses faith, is always hopeful and endures through every circumstance." — 1 Corinthians 13:7
"Don't marry the person you think you can live with; marry only the individual you think you can't live without." — James C. Dobson
"We love because it's the only true adventure" — Nikki Giovanni
"The best and most beautiful things in the world cannot be seen or even touched. They must be felt with the heart." — Helen Keller

---
---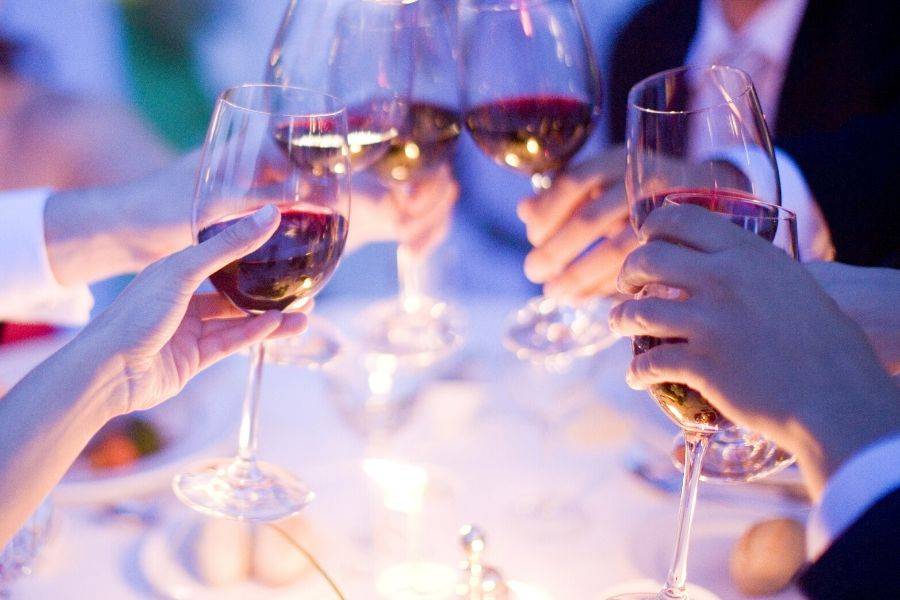 ---
The maid of honor speech ending. You are almost done, whew! Time to toast to the bride and groom. Raise your glass and say "Here's to the happy couple", and take sip!
---
Maid of Honor Speech Examples
---
Need some more ideas? Watch this hysterical maid of honor speech from the bride's sister. It's just perfect!   
Here's another example that has been seen by thousands, and for good reason. It's my idea of the perfect toast to the bride and groom! This maid of honor nailed it!
---

---
---
Other Helpful Wedding Planning Resources